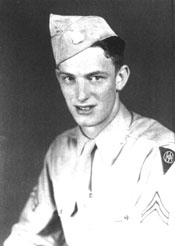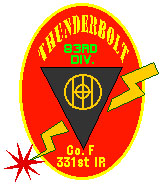 1st Sergeant, L Company

Richard E. Chipps was 1st Sergeant of L Company, 331st Infantry Regiment. He was inducted in October 1942, and sent to Camp Atterbury, Indiana for basic training with the 83rd Division. He served throughout the ETO campaign from Normandy to Germany and was awarded the Purple Heart with Oak Leaf Cluster (for wounds received on 15 July 1944 and 10 December 1944); Bronze Star Medal for action on 14 July 1944 near Sainteny, France; and Silver Star Medal for action on 17 December 1944 in Lendersdorf, Germany, where Chipps took over for a badly wounded platoon leader. Chipps advanced under heavy fire to reach the platoon which he then reorganized and led in an attack against German tanks, mortars, and riflemen.
His son says that he always became silent and moody during the first weeks of July every year, and could never understand how he made it through the war while others didn't--combat was so random.
On the 50th Anniversary of D-Day he recalled the long seasick wait in the English Channel during the big storm and how the Navy men took the best food. He said the fighting in the hedgerows the first few days in combat was terrible, and the fear was almost paralyzing at first. During one instance Chipps and another GI went to bring in a wounded man who was out in the open and exposed to German fire. They each had one of his arms over their shoulders when the wounded man was hit by an artillery round--they were left with only his forearms. He recalled seeing tanks drive over wounded GIs who could not get out of the way, and the helpless feeling of not being able to do anything about it.
During the Battle of the Bulge he was colder and more tired than at any other time in his life. The soldiers to the rear had all the warm clothes, boots, and mittens with a trigger finger--all of which never made it to the front.
He said that the worst street fighting he encountered was in Dinard and the Citadel of St. Servan in Brittany, and around Gey, Germany.
Near the end of the war, during the final drive to the Elbe River Chipps and his men took a German Opel from a barn and drove it towards the Elbe with his platoon hanging on. The 83rd moved so fast that villagers had no idea that they were coming. One village would be destroyed because a small group of fanatics resisted. The next would be totally untouched.
After the war, Chipps and his family made L Company reunions a big part of every summer. His son Greg says that the men were closer than families, and many wives became close friends and still get together even after their husbands have passed on. 1st Sgt. Chipps passed away on 20 November 1996.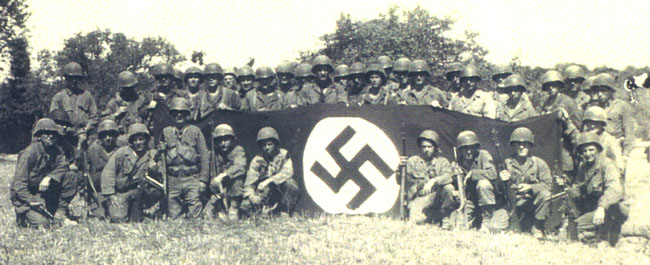 Second Platoon, L Company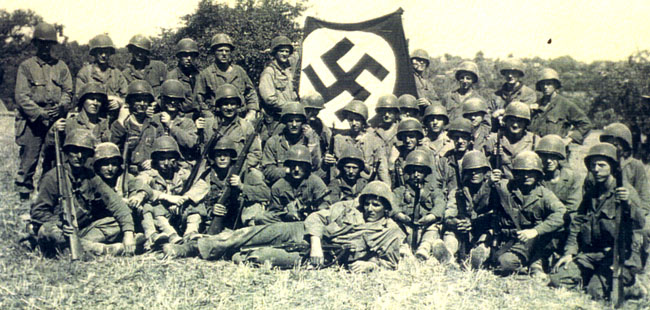 Third Platoon, L Company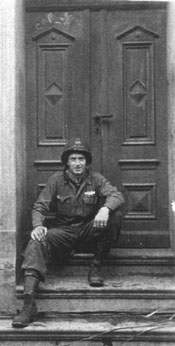 1st Sgt. Chipps in front of F Company Headquarters
(see "Co F" marking near top of door)
Thanks to Greg Chipps for supplying this information.