Long Journey Home

Technical Sergeant Paul B. Riffe (ASN 35639396) was in H Company, 329th Infantry Regiment. Paul was only 22 years old when he was killed on December 12, 1944 in Germany, in the Hurtgen Forest.

According to the obituary shown here, his remains were the first to be returned to the U.S. after the end of the war, sometime in 1947. He is buried in the Riffe family cemetery on the farm where he grew up. Paul was born in Hopewell, Kentucky (Greenup County) on March 4, 1922. He was the son of Orville and Nancy Martin Riffe. Paul had two brothers and three sisters.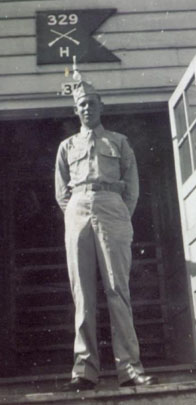 Paul left no immediate family behind to tell the story of his ultimate sacrifice. Tom Riffe, Paul's great nephew and Riffe family genealogist, became interested in finding as much information about Paul as he could in order to preserve it for future generations. As Tom says, "I felt he deserved that honor."
There is some mystery surrounding Paul's death. The only information is a few photographs, a correspondence from Camp Breckinridge in February 1944, a change of address form in March 1944, and one letter from the war zone in June 1944. Tom's father stated that he was always told that "Paul was wounded in France, died in Belgium, and was buried in Germany until after the war." It is certain that Paul was seriously wounded in Germany, as the 329th IR was in the vicinity of Hof Hardt in the Hurtgen Forest on December 12, 1944. However, Tom's father also said that he had been told "Paul was 'hit in the back' after a booby-trapped house exploded. He was not killed instantly." This information is confirmed by the 329th IR casualty list, which reports Paul as being seriously wounded in action on December 12, 1944. So, it is possible that Paul could have died later in the day after being moved to a field hospital in Belgium. As for the location of Paul's burial, it is more likely that Paul was originally buried in Belgium rather than Germany.
Another mystery is Paul Riffe's original home. The World War II Honor List of Dead and Missing lists Paul's home county as Mercer County, New Jersey instead of Greenup County, Kentucky. This information was corroborated by Captain Edward Swartout, chaplain of the 331st Infantry. Rev. Swartout participated in a memorial ceremony for the first Killed In Action to be returned to U.S. soil. Although Rev. Swartout could not recall the deceased soldier's name, he said that the soldier had served in the 83rd Division and the memorial ceremony was held in New Jersey, because that was his home.
Tom Riffe would appreciate hearing from anyone who can add to the information presented here. Tom can be contacted through his email address, triffe@carter.k12.ky.us.