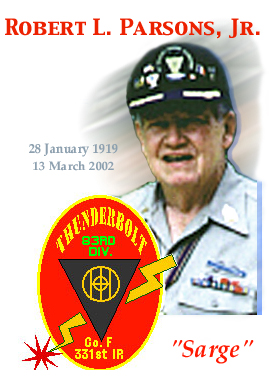 Robert L. Parsons, Jr. was born in Birmingham, Alabama on January 28, 1919. His father, a pharmacist, moved the family to Chattanooga, Tennessee at the start of the depression. The eldest of three children, Bob attended schools there, graduating from Central High in 1937.
Before entering college in 1940, Bob worked with the North Carolina and St. Louis Railroad to earn money for school. The bombing of Pearl Harbor on December 7, 1941 brought World War II to the doorstep of every home in America. Bob joined the Army and served with the 83rd Division in F Company/331st Infantry from Normandy to Germany. Among his many awards are the Combat Infantryman Badge, Bronze Star, Purple Heart, Good Conduct, EAME Campaign, and WWII Victory Medals.
After the war, Bob worked with the Fruehauf Trailer Company for 12 years, leaving them to form and start his own company, Parsons Truck-Trailer from which he retired in 1980 to travel and play golf.
Married to the former Margarette Record of Huntsville, Alabama, they have three children and several grandchildren. They were married for more than 59 years.

Sarge was a fixture on the internet, and over the years he helped many sons, daughters, and grandchildren of 83rd Division veterans. They found in Sarge a wonderful friend, always willing and able to help them. More often than not, he had stories and new information to share that helped complete their search. He helped me most of all. With Sarge's kind help and wonderful friendship, I learned the story of my dad and his buddies in F Company/331st Infantry.

Sarge loved to send out his book "Remembrances" to anyone who showed an interest. There was never any expectation of payment--only a gentle suggestion that if the recipient wished to send a donation, that it be sent to his church. The book was Sarge's "journey through a war," and as he said, he "did not--and could not--convey the real awful experiences of combat." Instead, it was his personal story "of remembrances, that are serious, heartfelt, agonizing, and sometimes humorous."
Somewhere I read that the only true death is to be forgotten. Sarge has a special place in the heart's of those who knew him, and he will always be with us.
---
I was very saddened to hear of the death of Sarge. I have tried to just block it out and not think about it but it keeps coming back into my mind....Shortly after we first "met" in the summer of 2000, Sarge mailed me a copy of Stephen Ambrose's "MEDIC." With it he attached a page he had put together with both his and my daddy's photos on it. I am attaching a copy but will also type it here as it may be difficult to read: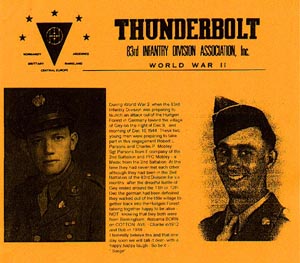 During World War 2 when the 83rd Infantry Division was preparing to launch an attack out of the Hurtgen Forest in Germany toward the village of Gey on the night of Dec. 9 and morning of Dec. 10, 1944. These two young men were preparing to take part in this engagement Robert L Parsons and Charles P Mobley. Sgt Parsons from F-company of the 2nd Battalion and PFC Mobley - a Medic from the 2nd Battalion. At the time they had never met each other although they had been in the 2nd Battalion of the 83rd Division for six months after the dreadful battle of Gey ended around the 11th or 12th Dec the german had been defeated they walked out of the little village together back into the Hurtgen Forest talking together happy to be alive NOT knowing that they were both from Birmingham, Alabama BORN on COTTON Ave - Charlie in 1912 and Bob in 1919 - I honestly believe this and that one day soon we will talk it over with a happy, happy laugh - So be it - "Sarge"
I so hope they have had that laugh. Kathy Mobley Mathews
---
I never met Sergeant Robert "Bob" L. Parsons of Franklin, Tennessee, but he had a profound influence on my life and I mourn his passing. I have expressed my private sympathies to his family and Margarette, his bride for almost 60 years.
At the urging of my friends from AWON (American World War II Orphans Network) I wrote to "Thunderbolt" the official publication of the 83rd Infantry Division Association. I asked if any members knew my father, Private Henry I. Tannenbaum who had died in Belgium while a member of the 331st Regiment.
Kind, sweet efficient Sarge wrote back almost immediately in the summer of 1996 and told a story about my father's death that I had never heard. In his book "Remembrances," Sarge mentions a massacre at Ottre, Belgium on January 11, 1945. He tells about Sergeant Harry Shoemaker, the sole survivor of the massacre where the Germans murdered the wounded members of two squads. Sarge deduced that my father had been KIA that day.
What Sarge did not know at the time was that a picture of my father, dead in the snow, had been taken by Tony Vaccaro. That picture called "White Death, Photo Requiem for a Dead Soldier, Private Henry I. Tannenbaum" would become world famous.
It would be months before Tony Vaccaro and I would discover each other. In the meantime, thanks to Sarge, I became a member of the 83rd Infantry Division, a life member of the Veterans of the Battle of the Bulge (VBOB) and an associate member of the Military Order of the Purple Heart.
Sarge seemed on a mission to get me to know as much as possible about my father and the horrible conditions of war that they both suffered. He shared copies of "See It Through" (the Regimental History) and "TTF" (the Regimental newsletter). Ultimately I obtained my own copy of "See It Through" but I will never forget his kindness in sharing his copy.
Over the years, we wrote first by letter and then by e-mail. We exchanged holiday greetings and pictures. Sarge thought I looked like Max Baer ( I do) and I cherish his sense of humor.
My only regret is that I never met him face to face. Thanks in large part to Sarge I now have a thick volume of memorabilia of my father.
God bless you and yours Sarge, and while you are up there say hello to my daddy, a man I got to know because of you.
Sam Tannenbaum
---