A Combat Medic's Story
May 21, 1945
Dearest Tressie,
Now it can be told - Well, Here I sit as an aid man in G. Co. in a little town six miles from Seesen Germany. I think the old man sent me out just for spite but its the best deal I've had in a long time........
Perhaps you would like to hear of my past - ha - Well, I was at Camp Shanks N.Y. after Reynolds. Then on March 21st, '44 I left New York aboard the Queen Mary. The first day of spring you see but the snow was plenty deep. Well, we left at about 4 p.m. that evening and as they wouldn't allow you on deck my only glimpse of the Statue of Liberty is the one from atop the Empire State Bldg.
Arrived at Greenoch Scotland on March 27th and on the 28th took train to Oulton Park England. It was near Chester. Remember the long hill letter? On May 8th, '44 I went to Camp Chard at Chard England and stayed until June 15th or 16th. Had some air raids there. Then to a camp somewhere - the place I don't know. Then I had my best eating in the army. At noon on June 18th we started across the Channel from Weymouth aboard the S. S. Victoria. Arrived off the coast of France the next day about noon and as the channel was so rough we didn't get off the boat until June 22nd at 10 p.m. Waded ashore on Omaha beach in knee deep water and marched about 8 miles in that night. Then on about July 9th I went to the 83rd. Stayed back at one of the kitchens until the 12th when I joined the aid station and that was my first day in combat.
I don't have to tell you that plenty more came later. The 83rd had just left a little town called Saint Emmy or something like that. Then there were all of those hellish days and nights in those damn hedgerows. We fought like hell there against Germany's best but as to secrecy no one ever heard of us there.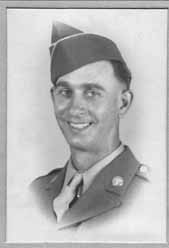 Then came the break through - I know I'll never see again the air armada I saw that day. Then came St. Malo, Parami, and St. Briac. Then down to Rennes and Blaine, Notre Dame and Nantes. The girl I wrote you about once lived at Nantes. I've often wondered why there was no comment from you - ha - Well one day we took out across France and ended up at Montarges. Went through Sens, Trayes and Verdure when I left Montarges. We were on our way to Luxembourg then and the Moselle river. Lived for a while in the city of Luxembourg. That's where I bought your gloves.
Then back to the Moselle for a while and from there to the Hurtgen forest. Those were cold nights and days and again they were more than hot. Gey Germany was a hot spot. From there we were snatched up to the bulge. I wouldn't relive those days again for anything in this world. Through part of that campaign I was really sick. I couldn't begin to go into detail about that place cause I'd be writing all night. It was plain hell.
Then the next jump was for the Rhine. Your husband came within an inch of being a prisoner of war there. You remember what I told you about an ambulance. That was the place. That shell missed me by seconds and just after that I thought I was gone as a prisoner. Well, I got by of course. We were the first to reach the Rhine. We ended up at Neuss just across the river from Dusseldorf. They blew the bridges out just as we got to them.
Next that dash to the Elbe. Didn't sleep for two days and one night. We crossed at Barby right behind the 329th. Was across before the bridge was built via ferry. Some of the boys have received pictures of our bridge from home. Did you see it in your papers? Well the most eastern point we reached was Zerbst. We didn't meet the Russians first because we were held back for them to meet us.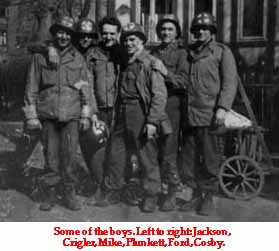 Well, its all over and you know I'm happy. As to the future, I'm in the dark - My score is 62 - 21 mo. in the army, 14 mo. over seas, 3 campaign stars and Teenie counts 12. We expected a star for the bulge but none is to be given. I might say in a modest way that I was put in for a bronze star medal but to date nothing has been heard of it. I made Pfc. on Dec. 16,1944. Well, this is a letter of a different type but it does let you know a little.
I'm sure I have mail at Seesen but getting there is something else. Well Darling Sweetheart, it's late now so I must get to bed. Always remember how much you are missed and how I'm longing and itching to see and get hold of you. Be my own Darling Tressie and love that doll of ours real good for me. Take care of all and write often.
Lovingly,
your Charlie
Return to Brothers-In-Arms