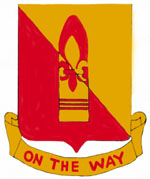 Bad Day at La Marchandais

The 908th Field Artillery was an organic battalion of the 83rd Division attached to the 331st Infantry Regiment. The battalion included a Headquarters and a Headquarters Battery, Service Battery, and A, B, and C Batteries with four 105mm howitzers each. Under the command of Lt. Col. Paul S. Thompson, the 908th had 30 officers, two warrant officers, and 489 enlisted men when the unit landed at Omaha Beach on June 19, 1944.



---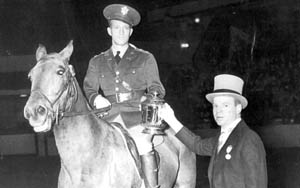 The 908th Field Artillery Battalion was formed, trained, and led by Lt. Col. Paul Singer Thompson. "Tommy" Thompson was a member of the West Point class of '29. He taught French at West Point for four years, was the cadet polo coach and a crack polo player, as well as a contender in the National Horse Show at Madison Square Garden. He had the reputation of being a "boisterous hell-for-leather type of an officer who did everything well." Lt. Col. Thompson led the 908th until his death at La Marchandais. He was 37 years old, and left a wife and young son.

Paul S. Thompson on Tiger-Lily
"Outjumping all the thoroughbreds in the National Horse Show"
---
Battle hardened by the bloody Normandy campaign of July 1944, the 908th met its greatest test at La Marchandais, a small farm in Brittany about 10 km south of the seaport cities of St. Malo and Dinard. There, on August 10, 1944, as the 908th fired its 105mm guns directly into the St. Malo fortifications, the battalion was subjected to fierce German counter-battery fire.
According to the 908th history, early in the morning of the 10th, the Piper Cub that was carrying forward observers 1st Lt. Philip J. Reichert and 1st Lt. John B. Goettke exploded in mid-air, apparently struck by a shell. Both were killed instantly. (They were awarded the Air Medal posthumously.) 1st Lt. Manny Goodridge recalls seeing the plane being hit. The wing broke in the middle and both wing tips folded forward. A little later, a German 150mm gun began to probe the Headquarters Battery area. Lt. Col. Thompson was in a small stone building when a German shell struck it. According to Goodridge, the shell entered one wall, and then struck the opposite wall causing the shell to explode on the inside of the building. Thompson was killed, and his aide T/Sgt. Russell Williams was blinded. Pfc. Fred Columbia was killed a short time later. Eleven more men were wounded.
The medics were having a tough time. Captain George G. Bruzza had a hole in his back and T5 Leslie Adams was also hit. Both continued to treat the other wounded. For their heroic efforts, they were awarded Silver Stars.
In the midst of the battle, Sgt. Edison B. Cutright succeeded in moving all of the 908th vehicles to safety, but the German counter fire was so intense that it was necessary to move the entire battalion to another position. Major Arthur M. Burghduff was sent from Division artillery to replace Lt. Col. Thompson. Under his command, the 908th moved forward and continued to pound the enemy positions in St. Malo.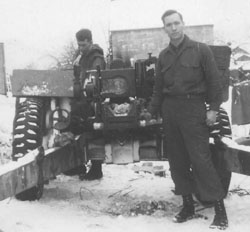 Among the red legs who were awarded Bronze Stars that day was Corporal Herbert C. Fairchild of C Battery, who exposed himself to enemy artillery fire to check several hundred yards of vital communications lines. Fairchild never talked of his war experiences, nor ever mentioned his Bronze Star. The only evidence of his bravery at La Marchandais was in his personal notes: the date of August 10 was circled. Next to it was written the word "Bad."

This photo of Corporal Fairchild was probably taken in March 1945. The other GI is unknown. Fairchild is also in the C Battery photo, above. He is in the second row, third from the end on the right side.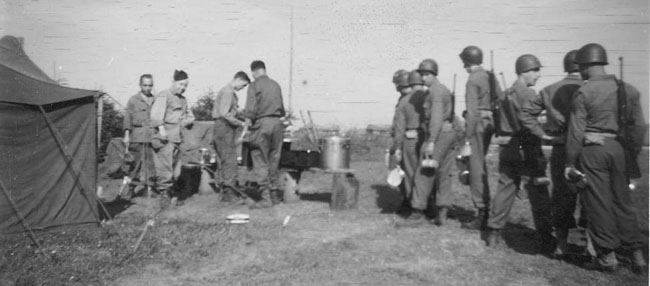 908th FA chow line, location and date unknown.
---
Many thanks to Bob Thompson, brother of Lt. Col. Paul Thompson, and Marshall Fairchild, son of Corporal Herbert C. Fairchild, for providing information and help in telling this story of the 908th Field Artillery. Bob Thompson is also a veteran who served in the 36th Division. He was a Prisoner of War at Oflag 64 in Poland, and at Oflag XIIIB (Hammelburg) which was the camp that was unsuccessfully raided By General Patton. Also thanks to Manny Goodridge (908th forward observer) and Carol Glass, daughter of Captain Herbert Glass (908th Service Battery) for their help in telling this story.