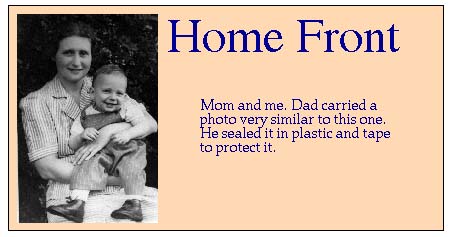 ---



It must have been tough for my mom, not knowing where my dad was or what kind of danger he was in--she knew he was in Europe, but the censors wouldn't let you say more than that. She hadn't seen him much since October 43 when he left for Camp Blanding. Then he shipped out in April 44, and she never saw him again.

Not only had my dad gone to fight the Nazis, but one of my dad's brothers and all of my mom's brothers were gone too. So, my mother and I lived in a world of grandmothers and aunts.

They were tough times, but my mother was tougher than the circumstances she found herself in. Mom managed to get on with life, and was even able to buy her own house before I was old enough to go to school (in a time when it was almost impossible for a woman to get any kind of credit). Until I entered school, mom cleaned and cooked and cared for her elderly great aunt so that she could be at home to take care of me. Later, she got a job as a secretary at the school board, and then went on to be a legal secretary at a local corporation. She finally remarried when I was grown and gone--and then after 10 years, buried her second husband. (Finding herself living alone in a rural area, she learned how to drive at the age of 61. )

A few years later mom underwent major surgery. She lost two-thirds of her stomach, and we thought we might lose her--but she bounded back to health.

Mom is now 95 and her sight is failing. She lived independently by herself until she was 93. Major surgery (mastectomy) in 2006 slowed her down a bit, and she realized that she could no longer live alone. She now resides at an assisted living facility. She is the most remarkable person I have ever known.

She still gets a tear in her eye when she talks about dad. "He was the love of my life. He's still taking care of me.





Mom (Wilma Adelaide [Curry] Byham)
and great-granddaughter Ellen.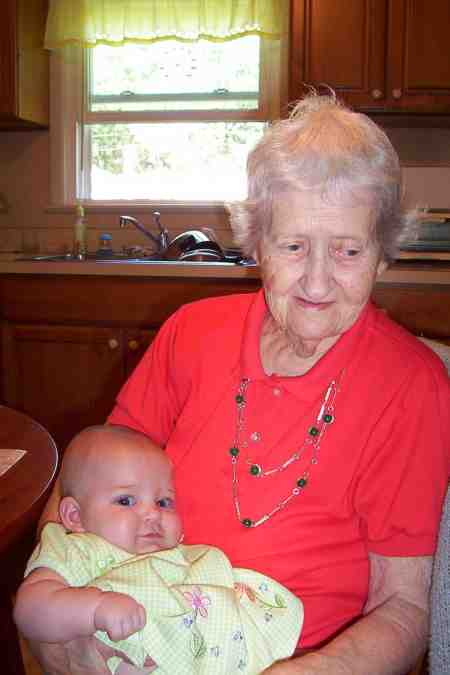 Mom passed away quietly on January 7, 2015 at the age of 102. Farewell Mom, we love and miss you!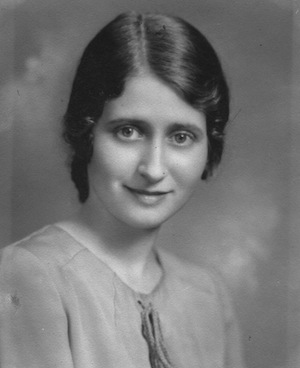 Return to Brothers-In-Arms